9 months ago · 1 min. reading time · visibility 0 ·
How to deal with PRESSURE in Pharma Sales & Marketing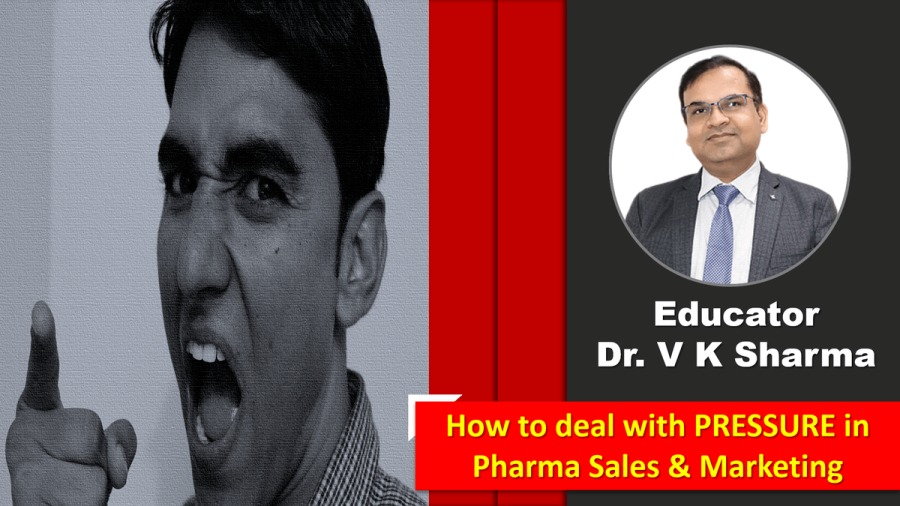 FREE ONLINE COURSE - Course Duration: 30m 18s  - Course Level: All Levels
To create an account and enroll for this course, click here
Material Includes:
3 Learning Videos
1 Quiz
Course Certificate
How to deal with PRESSURE in Pharma Sales & Marketing by Dr. V K Sharma 
This course is useful to professionals working in pharma sales & Marketing Management. Whether they are working in Pharma Sales (as 1st Line Manager, 2nd Line Manager & Zonal Managers, National Sales Manager-NSM) or Marketing Management (Product Managers, Group Product Managers, Marketing Managers). This course is also useful for the Training Managers in Pharma Sales Management. As Pharma industry is working with lot of stress and pressure, it become very important to understand how to deal with pressure and become more productive in whatever we do.
What Will You Learn
Why working with pressure and stress is so dangerous in Pharma Sales & Marketing Management?
Why pressure develops?
How successful professionals deal with the pressure?
How to deal with Pressure in Pharma Sales & Marketing management?
International outlook in Dealing with pressure in professional life.
Language: English
How to Deal Stress in Pharma Sales & Marketing
Overview                                                                                              

2:40
Part 1 – Stress Management in Pharma Sales & Marketing    

12:11
Part 2 – Stress Management in Pharma Sales & Marketing    

15:27
Quiz: Delete the Stress, Add a Smile
Target Audience
MR ABM RBM ZBM NSM
Marketing Manager
B Pharma BSc B Com BA BBA D Pharm
Who aspire to work in pharma sales or marketing
Who are working in Pharma Sales & Marketing
Who aspire grow in Pharma sales or Marketing
To create an account and enroll for this course, click here

Source: PharmaState Academy 

You have no groups that fit your search