8 months ago · 1 min. reading time · visibility 0 ·
Pharmacists as Opioid Stewards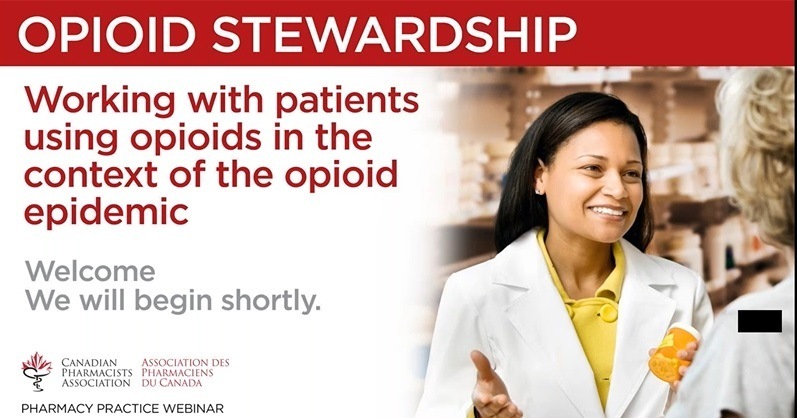 FREE RECORDED WEBINAR
Pharmacists as Opioid Stewards: An evidence based framework to help pharmacists work with patients using opioids for chronic pain 
Accredited for 1.25 CEUs.
To earn your CEUs:
Session will be approximately 60 minutes presentation, 10‐15 minutes  audience questions. This learning activity is accredited for 1.25 CEUs under CCCEP file number: 8002-2019-2881-L-T . To earn your CEUs please complete the assessment quiz. 
Learning Objectives
By the end of this presentation the learner will be able to
Consider the impact of the opioid epidemic and unintended consequences of opioid-related policies for people who use opioids for chronic pain
Identify specific opportunities and strategies to apply the 2017 Canadian Opioid Guideline in your practice
Be able to use effective approaches to conversations about opioids with patients
Original Presentation Date: September 10, 2019 (12:00 pm - 1:15 pm ET)
Presenters

Laura Murphy, PharmD, ACPR, BScPhm, Pharmacist/Pharmacy Clinical Lead, University Health Network
Shelita Dattani, BScPhm, PharmD, Director, Practice Development and Knowledge Translation, at the Canadian Pharmacists Association (CPhA)
Anisa Shivji, BScPhm, MSc Drug Discovery CDE, Policy Advisor, Ontario College of Pharmacists
About the Canadian Pharmacists Association (CPhA): The Canadian Pharmacists Association (CPhA) is the uniting national voice of pharmacy and the pharmacist profession in Canada. As pharmacists undertake an enhanced role in the delivery of health care services, CPhA ensures that the profession is recognized as a national leader in health care, influencing the policies, programs, budgets and initiatives affecting the profession and the health of Canadians.
Source: Canadian Pharmacists Association (CPhA)
You have no groups that fit your search