7 months ago · 1 min. reading time · visibility 0 ·
Sponsored Webcast: Managing Global Regulatory Complexity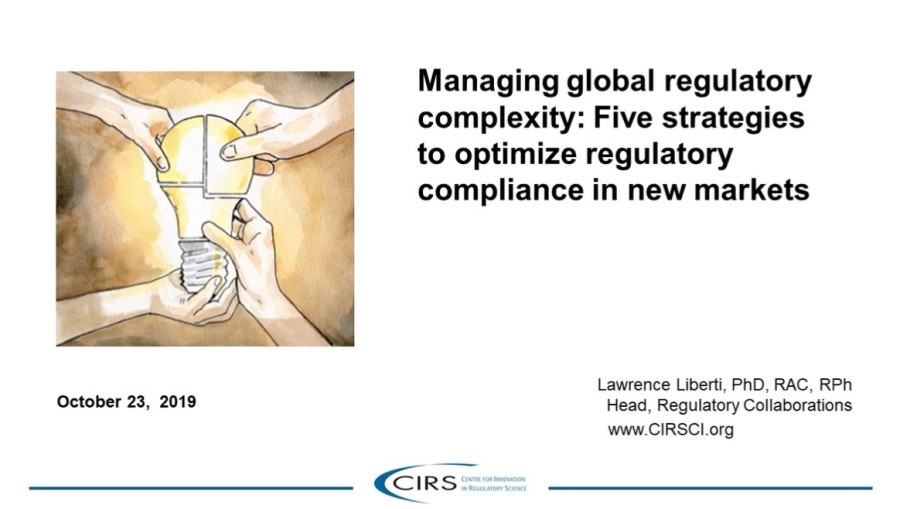 FREE ON-DEMAND WEBINAR
Complete the form to learn more!
Five Strategies to Optimize Regulatory Compliance in New Markets
To be successful and stay competitive, pharma and biotech companies often look to expand into new markets. Expansion introduces new challenges with regulatory compliance and data integrity regardless of expansion type. 
Tracking and locating all the key pieces of information needed to successfully launch in new markets can be time-consuming and error prone. 
Often, nuances of regulations and specific requirements are missed when they vary so greatly in each potential market. You need a strategic advantage to increase your success and compliance in new markets.
Learning Objectives
– Regulatory complexity and requirements of divergent markets
– Common challenges in establishing relationships with local regulatory bodies
– Considerations for inspection, stability requirements and track-and-trace systems
– Proper vetting of reimbursement policies and protection of intellectual property
– Best practices to optimize regulatory compliance in new markets
Who Should Attend?

– Regulatory Affairs Professionals with more than 5 years' experience
– RA managers and directors
– QA managers and directors
Complete the form to learn more! 

Speakers
Lawrence Liberti, PhD, RAC, 
Head of Regulatory Collaborations, 
Center for Innovation in Regulatory Science Ltd.
Lawrence Liberti, PhD began his career at Wyeth Laboratories working in product development, then as a regulatory writer in clinical R&D, and manager of safety surveillance in medical affairs. From 2009 to 2019 Liberti served as the Executive Director of CIRS (the Centre for Innovation in Regulatory Science Ltd., forming part of Clarivate Analytics). In 2019 he transitioned to his current position. Liberti has been actively involved in promulgating best practices in the regulatory aspects of medicines development, especially in emerging markets. 
Source: Clarivate
                                                                                                     * ~ * ~ *
About Clarivate:  Clarivate is a global leader in providing solutions to accelerate the lifecycle of innovation. Its bold mission is to help customers solve some of the world's most complex problems by providing actionable information and insights that reduce the time from new ideas to life-changing inventions in the areas of science and intellectual property. Clarivate helps customers discover, protect and commercialize their inventions using their trusted subscription and technology-based solutions coupled with deep domain expertise. For more information, please visit clarivate.com 
You have no groups that fit your search