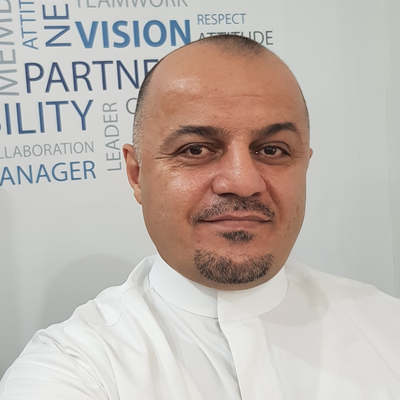 حول Abdullah Alfanar:
Dear Hiring Manager,
I am writing to express my interest in the Learning and Development Manager position at your esteemed organization. With over 20 years of experience in the food and beverage industry, including 10 years in Learning and Development, I believe I have the necessary skills and expertise to excel in this role.
As you can see from my resume, I have had extensive experience in creating and delivering training programs for new and current employees, including barista training, shift supervisor training, and retail management training. In my previous roles at M.H Alshaya, I was responsible for developing in-store learning coaches to meet training needs, maintaining training policies and store standards, and modifying training programs to meet market needs.
Additionally, my experience as a store manager has given me valuable insight into the operational side of the food and beverage industry. I have coached and trained management teams, developed new supervisors, created food management systems to control wastage, and achieved high scores in audits.
As a Learning and Development Manager, I would bring my passion for creating effective training programs and ensuring employee success to your organization. I am confident that I can create a positive learning environment that fosters growth and development for all employees.
Thank you for considering my application. I look forward to the opportunity to discuss my qualifications in more detail.
Sincerely,
Abdullah Alfanar
تجربة
Since Nov 2018: Starbucks as Brand Training Manager
Key Deliverables:
Lead the strategy to develop learning offerings that drive force performance, build critical skills and capabilities for the future, and are tailored to functional officers and staff. 
Conduct research into appropriate training methods and materials for different types of training programs
Ensure that training is delivered at appropriate locations and that a proper mix of courses is offered consistent with strategic training goals. Track training metrics and complete reports to executive management.
Develop, and implement training plans, including creating curricula, selecting instructors, and setting budgets.
Research new training methodologies and technologies to determine their potential applications in the workplace.
Chair and drive the senior management workshops for the senior operations manager, operations managers & district managers
Design and set up the online programs for Alshaya LMS.
Commence and manage the projects to support the operation teams. e.g., Voice of Customers and Google reviews. 
Carry out the training needs analysis and create training plans to ensure all employees have the competencies to excel in their roles. Execute and lead the nationalization project and the learning team roles.
Tailor the pre-screen and final interview processes to enhance the Starbucks recruitment process.
Organize and render multiple pieces of training, such as DM coach training, DM training program development, and OM training.
Plan the development of the operational needs for the next 3 quarters by preparing SSV and SMT for the new store opening.
Key Achievements:
Built and coached three learning specialists in the three regions of KSA and all the learning specialists in MENA Starbucks (Kuwait, Qatar, Bahrain, UAE, Oman, Jordan, Lebanon, Egypt, and Morocco)
---
Jun 2017 – Sept 2018: Donia Al Aswaf as Training Manager
Key Deliverables:
Built a strategic vision through a training & development plan that enables company operations and staff growth. 
Directed and led all training and development programs for corporate and operations training and ensured proper training was designed, implemented, and monitored.
Successfully organized, introduced, and led the new training programs.
Introduced the salesmen to the sales tactics by organizing the salesmen training program.
Achieved the government requirements by setting up the induction training program for the new Saudi salesmen
Chaired and steered the training sessions for more than 300 salesmen across KSA.
Planned and conducted the showroom visit to follow up on training and improve the training effectiveness.
Led initiatives in retail operations, such as developing the showroom operating manual and the product catalog.
---
Jan 2011 – May 2017: Zohoor Al Reef as Training Manager
Key Deliverables:
Entrusted with the overall accountability of conducting all all-training activities within the assigned sites.
Ensured training needs were consistently met at all assigned sites.
Reviewed the employee's skills and potential to provide them with different training sessions for enhancing their capabilities.
Shouldered with the responsibility of setting up and leading the induction training program.
Developed and managed the customer service and product knowledge training program.
Planned and organized induction training classes for sales staff in all regions of KSA.
Set up and rendered the retail management programs.
Designed, updated, and maintained the online training website for the company.
Chaired training and development for all support departments in the company
التعليم
EDUCATION CREDENTIALS
Bachelor's degree, Business Administration – Damascus University, Damascus, Syria, in August 2002
"Technical Proficiency: Well-versed with Advanced Office 365 skills (Power Bi, Excel, Powerpoint, Outlook, MS Teams, and MS Forms."
CERTIFICATIONS
Leadership and Communication Certificate Courses. Harvard Business School. Undergraduate.
Train the Trainer, Group Training Techniques, Spearhead Training - ILM, 2021
Certificated Performance Management Professional (CPMP), 2023
An Entire MBA in 1 Course: Award-Winning Business School Prof 2023
المحترفون الذين يتنافسون مع Abdullah
محترفون من نفس قطاع التعليم والتدريب مثل Abdullah Alfanar
محترفون من قطاعات مختلفة بالقرب من Jeddah, مِـنْـطَـقَـة مَـكَّـة الـمُـكَـرَّمَـة
المستخدمون الآخرون الذين يطلق عليهم Abdullah
وظائف بالقرب من Jeddah, مِـنْـطَـقَـة مَـكَّـة الـمُـكَـرَّمَـة
---

KEO International Consultants

Jeddah, المملكة العربية السعودية

دوام كامل

Job Summary · We are now seeking an exceptional Planning Engineer to join our award winning team based within our Jeddah Office in Saudi Arabia.This critical role will be responsible for ensuring proj ...

---

Hawk-Eye Innovations Ltd

Jeddah, المملكة العربية السعودية

دوام كامل

As a Football Systems Operator, you'll be responsible for setting up, monitoring, and operating our systems on-site at football stadiums in your region. · You'll play a key role in the delivery of our ...

---

Marriott International, Inc

Jeddah, المملكة العربية السعودية

Job Number 23160387 · Job Category Sales & Marketing · Location Jeddah Marriott Hotel Madinah Road, 6939 Al-Madinah Al-Monawarah Road, Jeddah, Saudi Arabia, Saudi Arabia VIEW ON MAP · Schedule Full-Ti ...